Book:
Petit Connoisseur: Art
Concept by:
Karen Salmansohn
Designed and illustrated by:
Brian Stauffer
Publisher:
Tricycle Press, an imprint of Ten Speed Press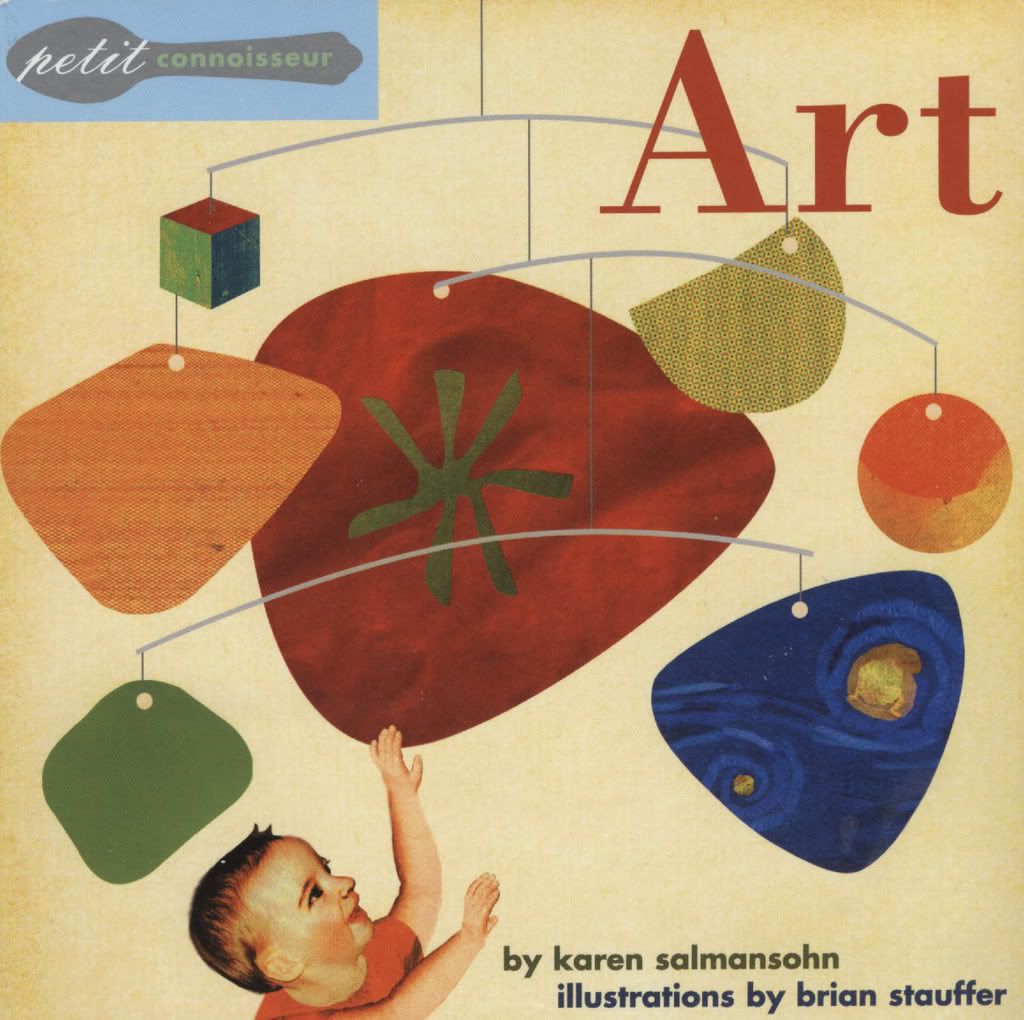 No matter what kind of baby thing you're looking for, it's pretty easy to find a cute and fuzzy form of it. Baby clothes, toys, and books are generally pastel-colored and adorable, if not terribly thought-provoking. Which is great. But sometimes you want a toy or a shirt or even a book with some edge to it. That is why I love what I'm calling hipster baby books. Especially this one:
Petit Connoisseur: Art
.
The book has seven spreads dedicted to terms relating to art AND can be made related to baby terms, too. Examples:
Dada
and
MoMA
. This book totally cracked me up the first time I read it and "got" all the terms! So clever.
My current favorite spread:
The same as Baby Henry's, "Dali (dolly)." It's gorgeously weird and wonderful.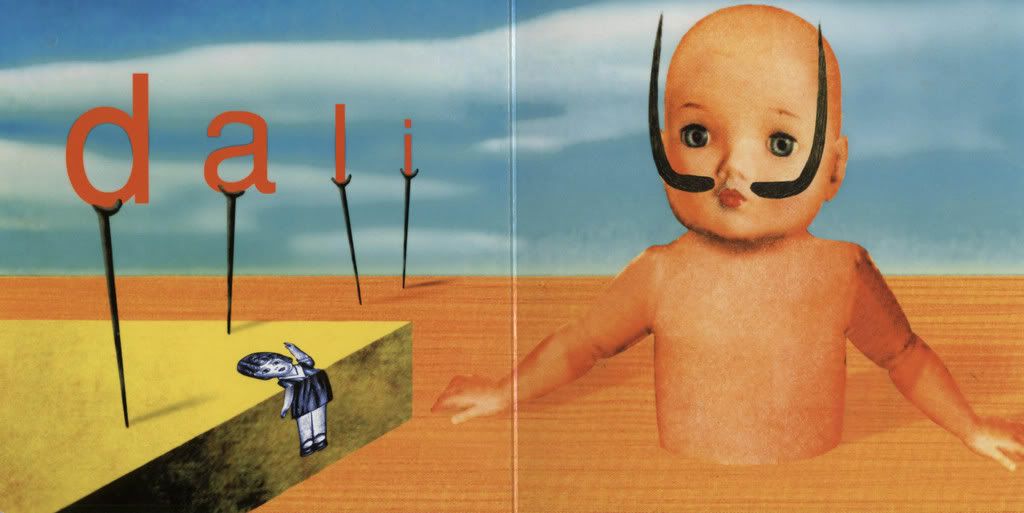 Spread I had to do some research for:
Yeah, it was the Dada one. Even though I was an Art Studio major, I still had to remind myself of how to
pronounce it
(and, uh, what exactly it means).
Deep thoughts:
Much like the Haunted Mansion at Disneyland, which Henry also loved on his first visit, his reaction to the "Dali" spread reminds me that he's not yet old enough to be really creeped out. (A very nice revelation.) The baby doll with a Salvador Dali mustache, and the "melting" doll à la "
Persistence of Memory,"
is certainly eerie to me; Henry is enchanted.
I appreciate how this image keeps the same theme of the Dali painting: from the mustached baby and the flat, unchanging "landscape," we can tell time is distorted in this baby world. It's a concept that I'm betting a lot of parents can relate to: how some days are so long, but how fast your baby grows up! No melting Dali clocks necessary to get that message across.
(Incidentally, I just googled the fitting expression "The days are long but the years are short" to see if I could find who coined the phrase. I didn't find that, but I did find this very sweet video: http://www.theyearsareshort.com/)
Anyway, Henry just loves to look at this spread and smile. So do I--and that goes for the entire little book.